19 May

Urn-ing Feng Shui Balance

My husband, ever the consummate gardener, took on a project this past weekend.  Actually it was driven by my recommendation, but truthfully, if any of my ideas has to do with working in the yard, he's always on board.  Several years ago we placed three ceramic pots along our front walk and each spring filled them with flowers.  Over the years, they began to chip and crack—one of the pots broke.  My idea:  to replace the three short pot idea with a couple of taller urns.

In Feng Shui, any changes made to the environment can be infused with a higher meaning, making the change even mo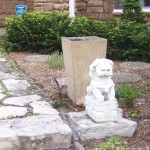 re potent. My intention in changing the pots was to not only beautify but also to elevate the energy coming up the walk.  By lifting the ch'i we would be off-setting any possibility of stagnation. Although we are both experiencing schedules that are hardly stagnant, I didn't want us to fall into a routine, even a busy one.  As the the new urns were going in place, we discussed whether just lifting the ch'i was an adequate goal—perhaps we needed to qualify that.
I remembered I had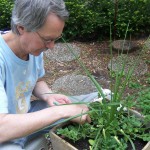 stones someone had given me which represented all nine areas of the bagua based on color (amethyst/purple for Wealth; lapis lazuli/blue for Knowledge, etc.).  Coincidentally, I had two sets.  We mapped out the magic square (bagua) on top of each urn and, in turn, nestled the appropriate colored stone in its corresponding area in the potting soil.  Because we have fu dogs sitting on either side of this front walk, my husband placed one set of stones in the urn closest to the male fu dog;  I placed stones in the urn closest to the female fu dog.
Our original intention was to beautify the front entry but we also managed to lift the ch'i coming to our home—-and not just any ch'i—-balanced ch'i.