17 Jun

The Final Chapter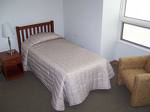 This fourth and final segment of my Feng Shui experiences with "Ned" was really just the beginning for my new friend. If you've followed his story over the last three months, "Ned" contacted me to help him with his space. An overwhelming phase of his life left him with an overwhelming house. All he needed was a starting point. Once he began to see and feel the difference in energy, he didn't need my input anymore. During this time "Ned" claimed an appropriate space for his bedroom, de-cluttered his kitchen table, was able to call in some new tenants to live in the upper part of his duplex, and was beginning to arrange a home office for himself. As I was driving to his house, I reflected how "Ned" proved to be a great teacher for me—-about process, about productivity and about patience (mine and his). I knew I couldn't keep driving out to see this dear man every few weeks for sooner or later he would need to assume his own power.
The last time I was there "Ned" was about to set up an office area for himself. I didn't have to wonder how things were going for when I drove up he was coming out the front door with a couple of bags to throw into a dumpster he had parked in front of his duplex. He looked pretty proud of himself as he waved at me. It seems the office project, although not quite complete, had lead to a major sorting and de-cluttering bonanza. Three book shelves were done and in place with selected books placed neatly on them. As "Ned" found the energy to sort through his books and magazines, he realized he was going to need a dumpster to haul away all the old stuff.
In one of my earlier visits, I had casually suggested a Feng Shui adjustment in dealing with clutter: remove nine items a day for nine days. At the time, I wasn't sure that "Ned" had paid attention to the suggestion for he didn't respond or write it down. But, contrary to what I thought, he had listened. Due to the amount of clutter, each "item" for him was a bag filled with useless stuff. Every day he had been taking out nine bags of stuck and stagnant energy, releasing some old and painful ties to the past. Six days (54 bags) had passed since he began this process. "Ned" was exuberant and almost unrecognizable!
He couldn't walk me into his house fast enough. His plans for the office were becoming elaborate, but not overdone. He showed me the repaired stove, the kitchen table still relatively uncluttered (placemats, too!), new blinds for his bedroom, new rug for his office. I couldn't believe the change in the place, evidenced in "Ned's" new energy. He actually had living room furniture which I hadn't been able to see before. We discussed some kind of storage system in his closets since clearly there were items he was wanting to keep.
We spent about thirty minutes together moving some of his living room furniture to make it more inviting. All of the furniture had been pushed up against the walls, so I suggested pulling the couch away from the window and angling a chair on one side. He would eventually need some additional lighting and a coffee table. But for now, he had a place to sit and relax.
I left that day without another set appointment. I felt a little sad but had been reassured that he would invite me back in the near future. "Ned" called a few months after this last visit to say that, after he got his office all set up, he was promoted from production to sales at his company. He would need that office after all as he would be working from home.
We explored the idea of a new relationship for a moment. He decided he needed to find himself, let go of the past and create some of his own dreams before getting involved with anyone else's.
It's been over a year since our visits together. During a recent phone conversation, he told me he's still sleeping well, eats dinner at his kitchen table and now enjoys the company of a cat. But the most profound event of all that happened to "Ned" occurred one morning when he woke up and habitually reached for his cigarettes. Since he was forced to get up in search of matches, he was struck by the beautiful space he had created as he walked out into the living room. It was orderly, uncluttered and energetic. He looked around and realized that this was not the home of a smoker. That morning he quit smoking. If he ever felt any pangs to start again, he just needed to look around at his space. He had created a new message to himself—–one that did not include this habitual activity. As "Ned" decluttered his house, he decluttered other baggage in his life, like smoking. This was an unexpected change for both of us, proving to me once again the basic Feng Shui principle that your space reflects your life.
One final note: right before sending in this last phase in the life of "Ned" I called him to see what was going on. He's dating someone and is madly in love. Go, Ned.