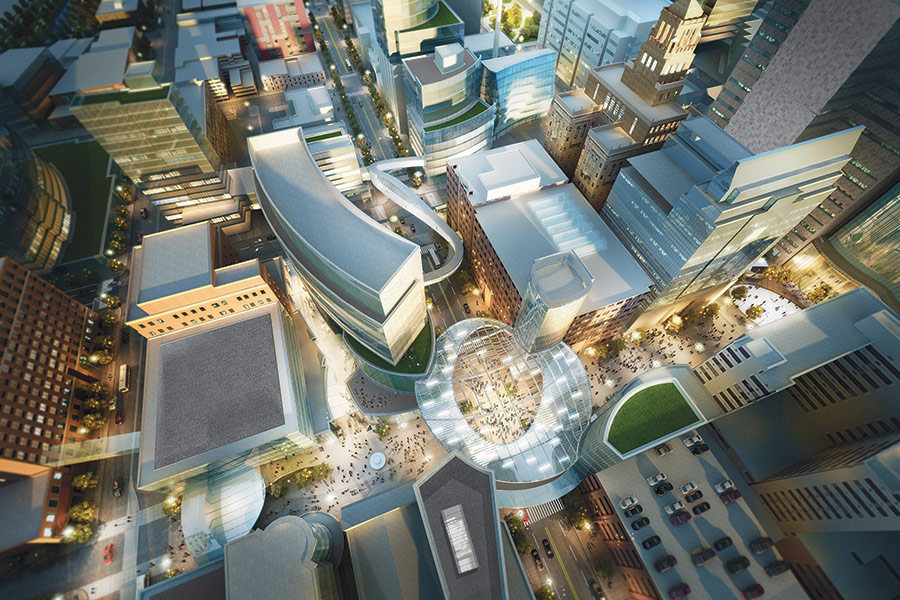 05 Jul

Rochester's Destination Medical Center: Is It Shaping Up to be an Integrative Space?

In the majority of my earlier work, I facilitated a client's integration of Feng Shui principles on a single structure—a home, building, office, yurt (yup!).  And, during the course of our work together, I would emphasize the importance of connecting to nature, of creating a central point in the space for balance, of being sure they can move easily from one area to the next.  And I would encourage them to put this integrative process in place step-by-step so they could slowly assimilate the changes and make other decisions as needed—–I'm not a proponent of the "get it done" theory no matter the scale of the project.

These integrative principles are not confined to a single stand-alone building but can be applied in a bigger and broader way.  Most recently, I have been watching the plans unfold for a Destination Medical Center being created by the Mayo Clinic in Rochester, MN.

I grew up near Rochester and always considered it a nice town (lots bigger than the little place I came from) with a pretty darn good clinic and hospital.  If someone didn't feel like they were getting an accurate diagnosis from our local doctor or their medical condition veered toward being serious, they "went to Rochester."  We all knew what that meant.

Well, soon "going to Rochester" is going to be an entirely different experience for people.  I'm watching to see how plans for the Destination Medical Center (DMC) are developing.

Here are some initial observations that could mean Integrative Space is top-of-mind:
The DMC is being developed over the next 20 years. This will obviously enable Mayo to course correct as needed depending on how the space is being used, what's working and what isn't.  A project of this size and scale most definitely needs to allow for a change in plans.
A "heart" has been established where Main Street and 1st Avenue/Broadway come together (a "happening place" when I was going there). Creating a central hub is crucial in any building from a Feng Shui perspective and more so in one of this magnitude—-it provides a balance point for the areas around it.
Creating walkways (outside as well as enclosed skyways) from one building to the next keeps the DMC unified—-plus is convenient for people moving from one place to the other during Minnesota winters.
Probably the most important of all integrative steps is their plan to establish a connection to the river that runs right through the downtown area. (Despite my many visits to Rochester over the years, I had no idea there was even a river in the vicinity.) This is an important connection to nature, to the history Rochester and to the concept of flow.
All that said, change is hard.  Merchants in the downtown area are understandably concerned for their welfare; a beloved library is being torn down to enable the river to become prominent; there's a concern about whether any of the housing around this area will be affordable; and there remains the question of how much the Rochester residents will be taxed for this project.
My memories of what Rochester was like have been taken over by a bigger plan—-I'd like to think a better one.  And, at the end of the day and after all these efforts to create an integrated space, the questions to ask will be:  Are people healing better and faster on all levels, not just physical?  Are their souls being treated along with their bodies?  Is there healing taking place inside as well as outside?  And, if so, the changes will be worth it.