28 Apr

Feng Shui for Your Dreams: What's in YOUR Bed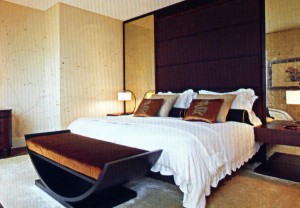 Feng Shui principles can be applied to your home, your office, your car, even your bed.  Integrating Feng Shui adjustments around this private piece of furniture can certainly impact your love-life, but it can also affect your quality of sleep and the way you feel about yourself.  If you're unhappy with your bedroom, specifically your bed, or if you're not sleeping well at night, here are some tips for you to follow:
1.  Don't store anything under the bed. Storing stuff under your bed blocks the flow and circulation of air and, depending on what's stored there, it can negatively impact your sleep and your dreams.
2.  Have a solid headboard. A headboard that is attached to the bed can provide you the support you need—-literally as you lean against it to read at night and figuratively as you find the "backing" you need in life.
3.  Have an even number of pillows on the bed. Decorative pillows add a nice touch to an otherwise ho-hum bed, but keep them in even numbers if you want to call in a partner.  Otherwise, you may find yourself as the "fifth wheel," the number 3 person in a triangle, or all alone.
4.  Do not place childhood toys on the bed. A stuffed animal or doll from when you were a child is not the kind of message you want to bring into the bedroom where you should be operating as an adult.  Decorative accessories should be age appropriate.
All of these tips apply whether someone is in a committed relationship or not.  Sometimes creating a relationship with yourself is more important than trying to create one with someone else.