03 Sep

And Life Goes On . . . A Piece of Feng Shui History

A few weeks ago His Holiness Grandmaster Thomas Lin Yun passed away.  He had been my Feng Shui teacher since 1992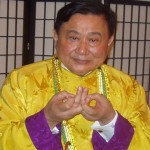 when I met him in Berkeley.  Although over the years we saw him struggling with diabetes and a serious heart condition, he always seemed to rise above these physical impairments to offer his eager students humor, guidance, a model of compassion, not to mention boundless information about Feng Shui.  Unfortunately, he wasn't abble to get past the most recent hurdles.
Many of us were able to attend his funeral where we supported one another, cried together, and told endless stories about him.  Everyone had a story about Professor Lin.  The best one I heard was from a man I met the morning of the funeral.  He was an Asian gentleman and obviously came to the funeral by himself.  He caught my eye so we struck up a conversation.  "How long have you known Professor Lin?" I asked.  "About 28 years, but I haven't seen Professor for nearly 20 years," he replied.  I assured him that if Professor were here today, he would remember him despite such a long passage of time.  I had been witness to this gift of Professor's once when traveling with him in India.  A woman he had met once in New York many years prior approached him to say hello for she, too, was traveling in India.  Without missing a beat and before she could refresh his memory, he asked about her husband who had been sick when they had originally met.  I had no doubt  Professor would recall this refined gentleman.
As it turns out, my Asian friend told me that Professor had actually invited him to his funeral.  He explained that on Tuesday of the prior week, he had a dream about Professor who told him he wanted to see him.  Although the man hadn't thought about Professor for many years, he decided he'd make arrangements to pay a visit.  Two days later he read Professor's obituary in the paper—-he knew then Professor had come to him with an invitation to his funeral.
Professor was leader to thousands and recognized all over the world.  It wasn't unusual to be attending a workshop in Boston and be seated next to a whole contingency from Caracao, or people from Hong Kong or South America.  He not only had an important message but he delivered it with his characteristic charm.  He loved to teach and he loved his students.  This past weekend I taught a group of students and, at times, simultaneously felt his loss and his presence.  "Do one good deed a day" was always his advice, for he   felt it could not only cure a lot of bad Feng Shui but also create a lot of good will.
I am grateful and honored to have been counted among his disciples.  A year ago he blessed what was then the beginning of my new book "Conversations with Your Home."  I'm sorry he didn't get to see the finished product, but his blessing of this material will be eternal.